The 15th Annual Catskill Ice Festival
 February 8, 9, 10, 11, 2013.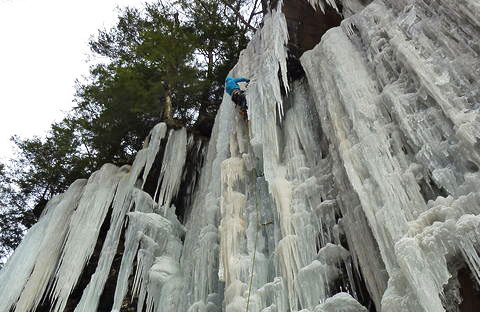 The ice conditions are looking great for this event! Hope you can make it!
Get pumped for the Ice Fest with A Local's View of the Devil's Kitchen by Ryan Stefiuk.
"Last year was great fun. This year we will have multiple clinics on all the skills and techniques you need to get out on ice – from basic skills, to dry-tooling, to glacier travel techniques.
Slide shows on Friday & Saturday evening feature the Catskills – see an aerial view on Friday night with Marty Molitoris, and get the beta on the latest mixed and ice routes by Christopher Beauchamp. Slide shows will be held at Rock and Snow at 8pm.
The demo gear will be located at Rock and Snow – so you can try out the latest Harnesses, Ice Tools, Crampons, and clothing from the best companies. You know them – Black Diamond, Petzl, La Sportiva, Outdoor Research & Rab. Click for location directions 
Rates are $150 per person per event – Slide shows are free!
As an added bonus – Rock and Snow will offer 15% off for ice gear and apparel for all icefest registrants from the time they sign up through the end of the ice fest. All you need is to print out and show them the confirmation email we send when you register for it."