North Conway is  in eastern Carroll County, New Hampshire, United States. The population was 2,349 at the 2010 census.[1] A year-round resort area, North Conway is the largest village within the town of Conway, which is bounded on the east by the Maine state line. The White Mountain National Forest is to the west and north. Conway is home to Cathedral Ledge (popular with climbers), Echo Lake State Park, and Mount Cranmore.
Source: Wikipedia, the free encyclopedia
MAP
GUIDES
PHOTOS
CONDITIONS
CLIMBS
INFO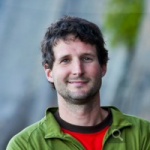 Bayard Russell, Jr.
CATHEDRAL MOUNTAIN GUIDES
Bio
CATHEDRAL MOUNTAIN GUIDES is a New Hampshire-based guide service run by American Mountain Guide Association (AMGA) certified guide Bayard Russell, Jr. A highly experienced climber, Bayard is also a director of the Mountain Rescue Service (MRS), and an MRS Team leader. He has summited both Alaska's Denali (Mt McKinley) and Mt. Hunter, completed multiple ascents of Yosemite Valley's El Capitan, and established new routes throughout the northeast; ranging from multipitch 5.12d to M10 sport mixed and multipitch M9 trad. At home on both rock and ice, Bayard is well-equipped to help you further your goals, whether you want to rock climb for the first time, try your hand at mountaineering, or swing tools at steep ice and scratch around on mixed terrain.
Alpine, Rock, Ice
Certifications
AMGA
Sponsors
Outdoor Research
Sterling Rope
Contact Information
Web Site: 
http://www.whitemountainrockandice.com/
Phone: 
603-986-5614
Email:
[email protected]
Area Information
Guide Books
An Ice Climbers Guide to Northern New England by S. Peter Lewis & Rick Wilcox
The newest edition of the definitive climbing guide book covering all of Vermont, Maine, and New Hampshire – over 900 routes from NEI 2 through NEI 6 M8!!
Features:
– Includes difficulty ratings and descriptions of each route
– Icons give you a heads up on all aspects of the route, such as typical ice conditions, road-side parking, sun exposure, poor protection, avalanche hazard, and trail popularity
– Paperback; 320 pages; third edition; 8.5 x 5.5 inches
Gear
International Mountain Equipment
Located in North Conway, New Hampshire, the heart of the Mount Washington Valley. North Conway has always been the climbing center of the Northeast. At International Mountain Equipment we have made a commitment to supply our customers with the best technical gear and clothing available today.
Lodging
The Bartlett Inn
Innkeepers Miriam & Nick Jaques
Rt 302 Box 327 Bartlett NH 03812
www.bartlettinn.com
1 800 292 2353
Great location for ice climbing near North Conway New Hampshire. The Bartlett Inn is the closest place for climbing the Crawford Notch area, Aerethusia Falls, Frankenstein Cliffs, Willey Slide and Mt Washington. After your climb hottub under the stars or enjoy hot cider by the inns crackling wood fireplace.Cozy inn and cottages; kitchenettes, wood fireplaces. FREE Yummy breakfast, wireless and discounted ski tickets. Climbers take 10% off thier stay when they mention NEICE at the time of reservation (blackouts apply -February and peak weekends).